Introducing the MT500, MT750 & MT750+
MidthermUV is helping the world tackle airborne pathogens
MT500
Offering greater capacity of 500m3/hour is the MT500, a freestanding unit that is deadly on bacteria and virus, deactivating on a single pass over 99% of pathogens, even at its highest flow rate.
Finished in brushed stainless with gloss white or matt black powder-coated, it features a patented self-sanitising pre-filter, so no need for clinical waste disposal. Plus, a lamp fault indicator, variable flow control, annual service pack offer and is available with front swivel castors for increased mobility.
It is quiet, economical and efficient, energy, costing just 6p/hour.
Efficacy and light safety testing has been conducted by an NHS laboratory.
MT750 and MT750+
For more power still, the MT750 comes with the ability to sanitise 750cu.m/hr, with three 75W Philips Signify lamps.
The 40kg unit is easy to install and maintain, cheap to run at 10p/hour, and tough on pathogens.
The MT750+ adds another Philips lamp to the reactor and is designed for single pass bacterial deactivation of tougher pathogens , such as spores, moulds and fungi.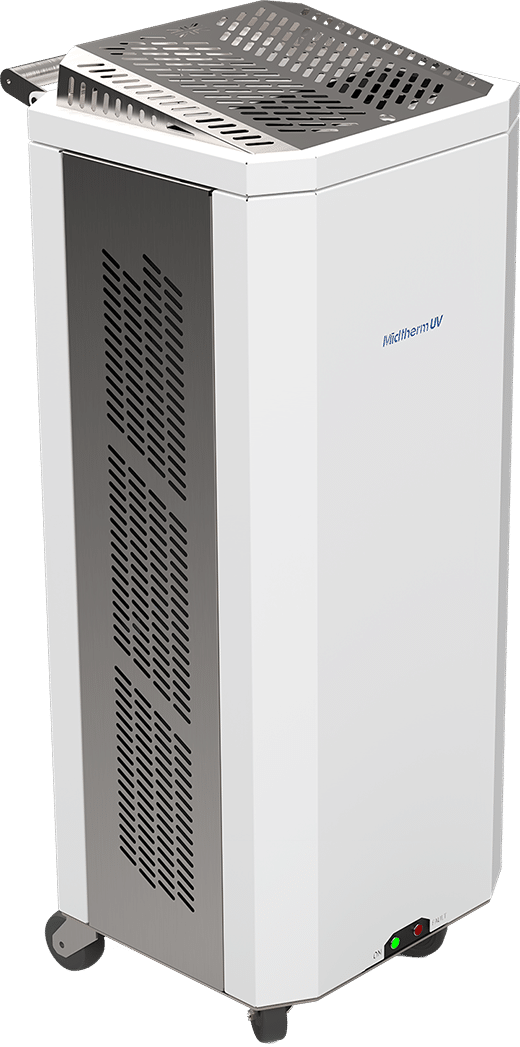 View our other air purification solutions